Product no longer stocked – limited availability
Contact for pricing and lead time--a minimum order quantity may apply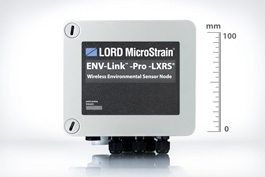 The LORD MicroStrain® ENV-Link™ -Pro -LXRS® is a ruggedized environmental sensing node with inputs for two thermocouples, four single-ended 0 - 5 V sensors, and a relative humidity and temperature sensor (RHT).
Product Highlights
Inputs for two thermocouples, four single-ended 0 to 5 V dc sensors, and a relative humidity/temperature (RHT) sensor
Ideal for remote, long-term environmental monitoring including; measurements of solar irradiance, temperature, relative humidity, soil moisture, leaf wetness, precipitation, wind speed and direction, water level, barometric pressure, conductivity, strain, and more
Simultaneously transmit real-time data and log to memory.
Sealed IP67 enclosure for use outdoors and in harsh environments
LORD MicroStrain® LXRS® Wireless Sensor Networks enable simultaneous, high-speed sensing and data aggregation from scalable sensor networks. Our wireless sensing systems are ideal for sensor monitoring, data acquisition, performance analysis, and sensing response applications.
The gateways are the heart of the LORD MicroStrain wireless sensing system. They coordinate and maintain wireless transmissions across a network of distributed wireless sensor nodes . The LORD MicroStrain LXRS wireless communication protocol between LXRS  nodes and gateways enable highspeed sampling, ±32 microseconds node- to- node synchronization, transmission range up to 2 kilometers, and lossless data throughput under most operating conditions.
Users can easily program nodes for data logging, continuous, and periodic burst sampling with the Node Commander ® software. The web- based SensorCloud™ interface optimizes data aggregation, analysis, presentation, and alerts for gigabytes of sensor data from remote networks.
Datasheet
Manual