Applications
Downloads
Tags
Parameters
By
Posted

Monday, July 27, 2015 - 11:30
Embedded wireless sensors powered by an external magnetic field measure temperature, strain, crack extension, and dielectric constant of a composite during autoclave cure process.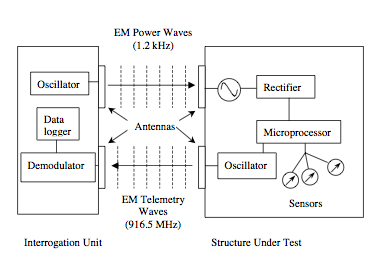 Monitoring of a composite's thermal and dielectric profile during autoclave cure is important for the quality control of the cure schedule and ultimately, for the quality of the composite's mechanical properties. However, the wires typically used for thermocouples and capacitive sensors embedded in the composite and brought out through a protective bag can be a source of damage to the material due to steam penetration.
The ingress/egress of lead wires (or fiber optic "tails") present additional trimming costs and handling problems, and require external connections. These problems may be overcome by employing embedded sensors, powered by an external magnetic field, to measure temperature, dielectric constant, strain, crack extension, etc. without direct physical connections.
MicroStrain has developed a technique for remote powering and bi-directional communications with a network of micro- miniature, multi-channel wireless sensor, which may be powered and interrogated via a non-contacting inductive link. MicroStrain's wireless devices may be configured to operate with a variety of sensors, including thermocouples, strain gauges, magnetometers, and capacitive/inductive sensors. Because the nodes are addressable, multiple sensor modules may be embedded in a composite and queried by a single external powering/interrogation system.  As a result, industrial cure processes can achieve cost effective quality control at higher resolutions and greater scale.