Applications
Downloads
Tags
Parameters
Related Products
By
Posted

Monday, July 27, 2015 - 09:45
Maintenance and service is a key contributor to the total cost of train ownership. LORD MicroStrain® wireless sensing systems provide fleet operators with a quick and cost-effective path to embedding health sensing capabilities on both new and existing cr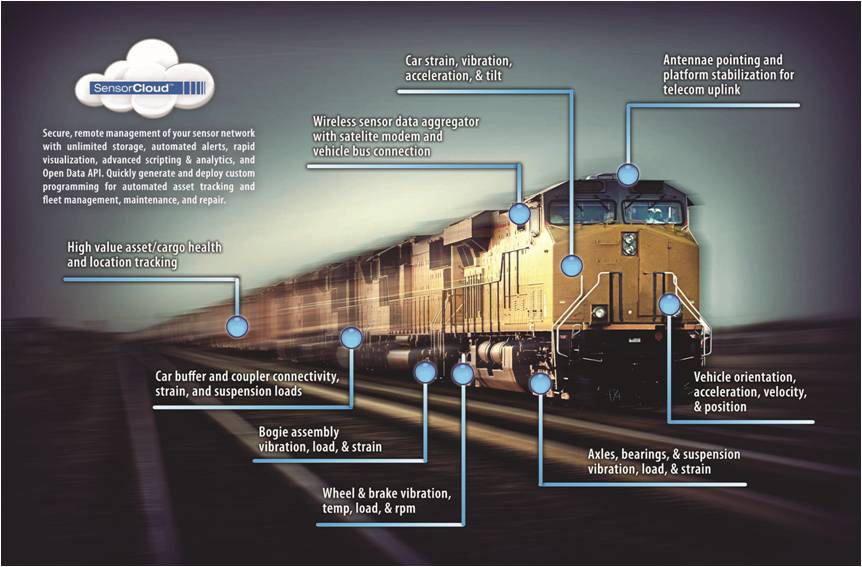 Distributed Fleet Sensing Capabilities
Maintenance and service is a key contributor to the total cost of train ownership.  The total cost of maintaining rolling stock often exceeds original equipment purchase price. LORD MicroStrain® wireless sensing systems provide fleet operators with a quick and cost-effective path to embedding health sensing capabilities on both new and existing critical components for continuous, automated condition updates.
The elimination of wires facilitates the easy retrofit of active engines and cars.  LORD MicroStrain scalable networks provides a range of sensing capabilities on distributed components. Solutions include wireless vibration, load, strain, and temperature sensing on bogies, wheels, brakes, and axles; miniature inclinometers and inertial sensors for feedback car positioning and dynamics; high-value asset and cargo health tracking; and antenna pointing for telecom uplink. Lossless LXRS® wireless communication with extended range ensures reliable data transmission on dynamic components, while low power consumption and energy harvesting significantly reduce or eliminate battery maintenance in long-term applications.
Real-Time Remote Monitoring
Combined with SensorCloud™ remote network monitoring and management, LORD MicroStrain provides an end-to-end sensing solution that delivers real-time actionable information.  Embedded analytics and customizable alerts allow users to define their key thresholds and receive automated messages about remote train health via satellite or cellular modem. MathEngine® web-based analytics provide a robust scripting environment for programming new or porting in existing prognostic algorithms.  As a result, operators can schedule maintenance and anticipate part replacement before failures occur, and track fleet movement and cargo health for optimized fleet operation and service costs.